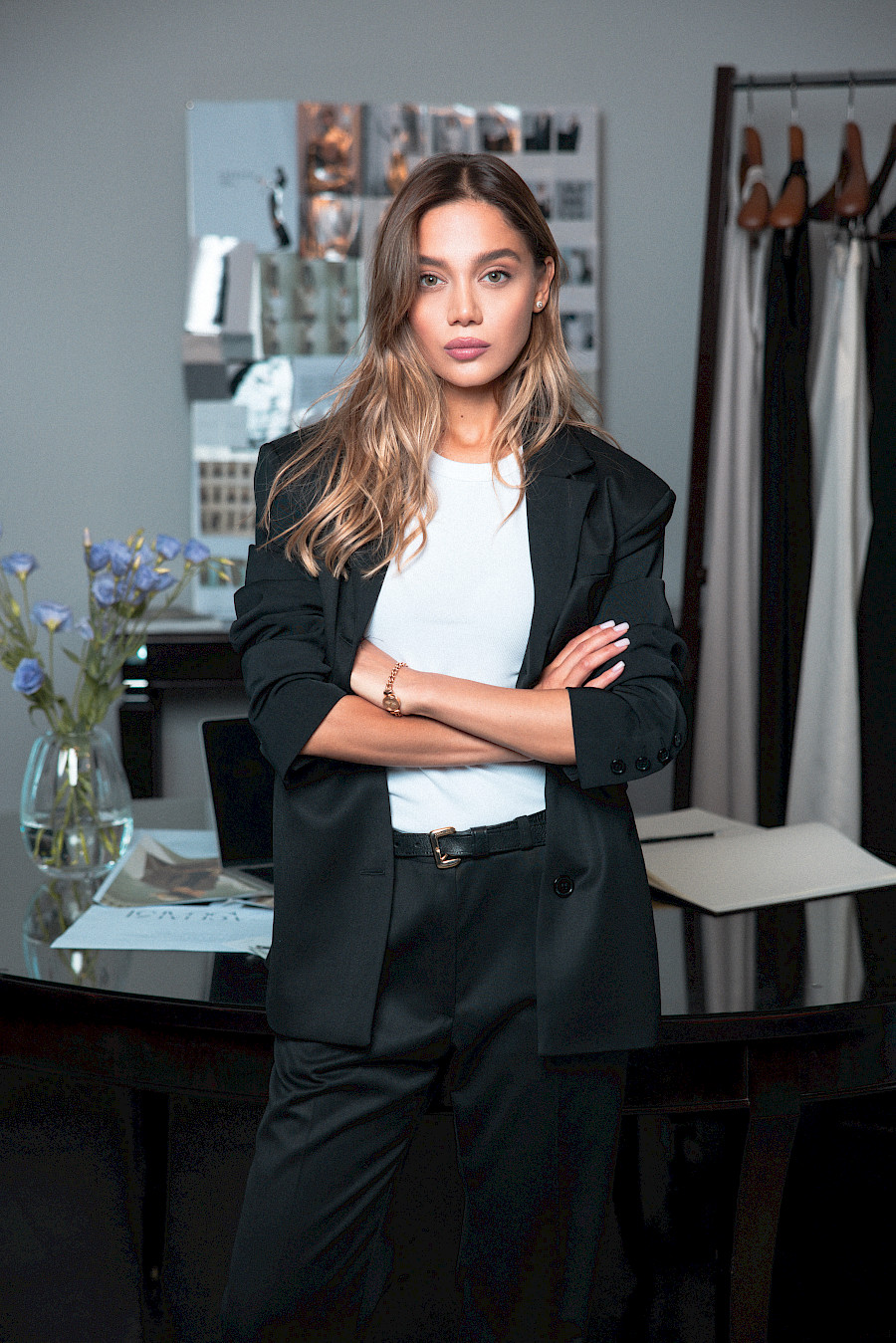 For the August issue, we met with Aysel Rahimova - a beautiful woman, an influencer, and a fashion designer, who owns a brand called "Casual31". We were fascinated by her simplicity, elegant soul, and masculine taste. Let's see what her brand is about and how to get the quiet luxury look with must-have minimalism outfit formulas.
AYSEL'S STORY:
I am thrilled to start on this journey of sharing my experiences as a fashion designer, influencer, and content creator with you. My name is Aysel, and I come from Baku, Azerbaijan. I pursued my passion for fashion by studying Fashion Design at the esteemed «Academy of Fine Arts», where I gained the skills and knowledge to embark on an extraordinary creative path.
From a young age, I discovered my talent and passion for drawing, and art quickly became an integral part of my life. Every stroke of the brush inspired my fashion designs. I believe that beauty can be found in the most unexpected places, and it is through art that I unlock its potential.
In 2018, I took a bold step and established my own fashion brand, CASUAL31. Inspired by the fashion trends of the 90s, I aimed to create a brand that embodies multifunctionality and minimalism. Drawing from the concept of simplicity, I used colour palettes such as black, grey, white, and beige to create a timeless and versatile wardrobe. I also incorporated cold colours to give my designs a contemporary touch, appealing to the modern fashion enthusiast. Beyond my role as a fashion designer, I embarked on a journey as an influencer and content creator. Through my blog, which I launched alongside CASUAL31, I have had the privilege of collaborating with renowned fashion platforms and brands, expanding my reach to a global audience.
My style and fashion philosophy are deeply rooted in the belief that women should not only radiate beauty and tenderness but also exude self-sufficiency and confidence. I draw inspiration from successful women who have broken barriers and achieved greatness, channelling their strength into my designs. One of my style tips is to definitely play with proportions. Do not be afraid to experiment with different silhouettes and dimensions. Mixing oversized pieces with more tailored elements can create an interesting and dynamic look. Playing with proportions adds visual intrigue to your outfits and allows you to express your unique style. Another core style tip is to embrace the power of basics. Building a versatile wardrobe starts with investing in timeless basics. A well-fitted white t-shirt, a tailored blazer, and a pair of timeless black trousers are among the essential items that serve as the foundation for countless fashionable outfits.
By incorporating these basics into your collection, you can effortlessly create chic and sophisticated looks that stand the test of time. To elevate your look, accessorize with confidence, as it is the perfect way to enhance your outfits and add a personal touch. Choose accessories that express your individuality and experiment with various styles to find the ones that resonate with you.
"STYLE IS THE CANVAS THROUGH WHICH WE EXPRESS OUR INNER CONFIDENCE AND CELEBRATE THE BEAUTY OF SELF-EXPRESSION"
Special thanks to Four Seasons Hotel Baku.