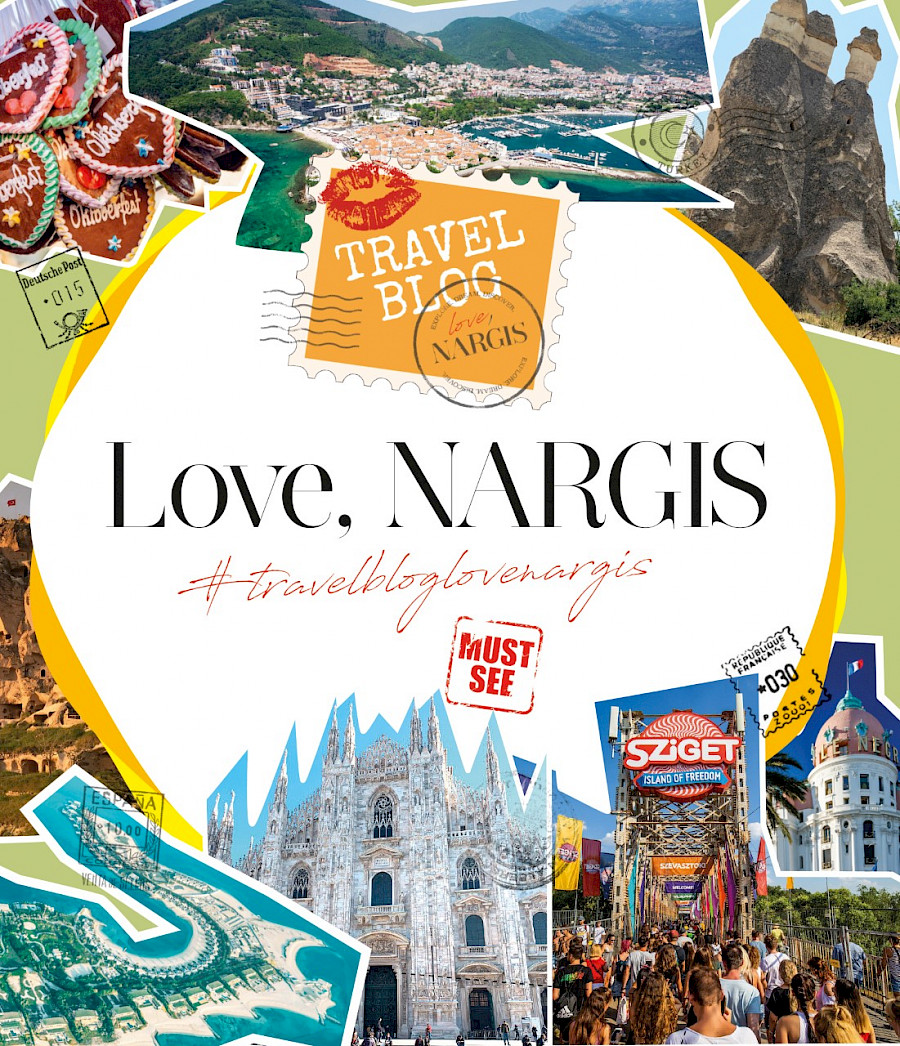 This is the first and hopefully last summer when the entire NARGIS team is holed up in the office instead of flying around the world at the resort season as usual: some on vacation, some for the weekend, and some on a creative business trip for the Travel Blog project. Live, exciting travel stories, bright photographic coverage and impressions, wild emotions – many readers of our magazine and regulars of the site nargismagazine.com look forward to our next stories about such trips! But even in such a challenging situation, when the borders are still locked up and it is impossible to travel at all, our creative team does not want to give up its main rule – to supply the reader with interesting information and first-hand only! We will reveal a little secret: in any coverage something stays "behind the scenes" and does not make it to the pages of the magazine. These are funny and curious moments, minor (and it happens, major!) misunderstandings caused by some unforeseen circumstances... No trip happens without them. Sometimes such "little things" can totally kill the mood, or even destroy the whole trip. But after time, looking back, we notice that these same curiosities and misunderstandings made the trip brighter and more interesting, spiced it up. And so we, the participants of the Travel Blog project, decided to tell you about our off-screen adventures!

And since our essential companion in all journeys was our videographer Ruslan Gorbunov, endowed with an amazing talent to generate extraordinary situations, we thought that our stories would be incomplete without his comments. You can watch the video journals of Travel Blog project's participants on nargismagazine.com website, our Youtube channel, as well as on our Facebook and Instagram pages.

Such huge project as Travel Blog would be difficult to realize without the support of our partners. If not for them, many road trip stories could have no happy ending! Therefore, we sincerely thank PASHA Bank, travel agency PASHA Holidays, mobile operator Azercell and Berg Energy for their invaluable support!
Coachella Sona Mammadova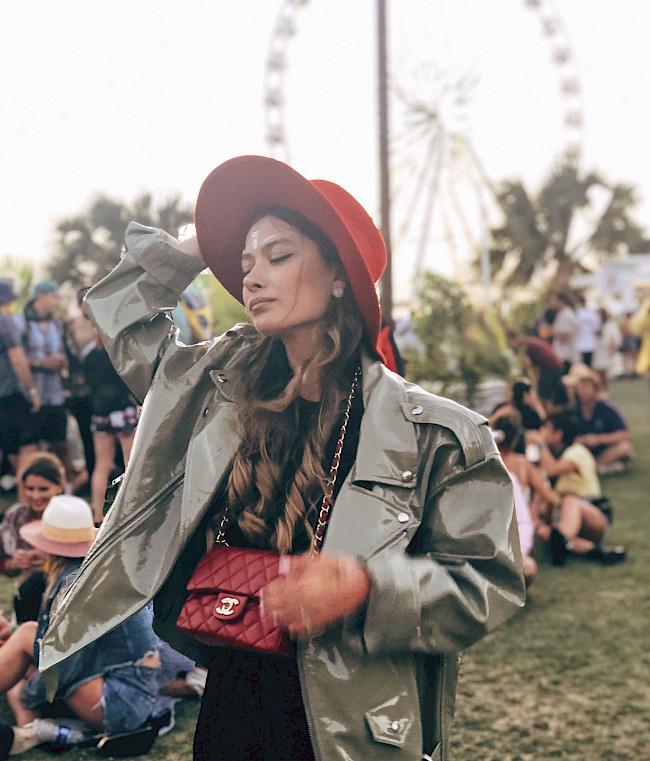 The adventure started an as soon as we landed. We booked a hotel on Booking.com under my name, and then again, just in case, made a "reserve" through the travel agency. But at the reception, we were told that we needed to pay on the ground. As it turned out later, the agency paid everything in advance and we completely unnecessarily put out all our travelling allowances. But the hotel never returned the money for the reservation. No cameras were allowed to Coachella festival, so our pro videographer and I came up with different tricks to smuggle it. For example, at the entrance as a distraction I held his huge backpack in hands, and on my back, under my hair down, I hid a little backpack with the GoPro camera... One way or another, the camera was always with us! When we were preparing to shoot Ariana's concert, we studied the location in advance, thought through which side of the stage was better to stand, how to film while being unnoticed...One hour prior we were already at the spot. And when there were 20 minutes left before the concert, we suddenly found out that it would take place on a completely different platform! We rushed from all our feet to Ariana, but could no longer approach the stage – people took their places two or three hours before the start, some of them just lay on the floor in front of the stage.
We got luckier at the concert of Billie Eilish – we were very close to the stage. One African American guy helped us: the three of us – me, him and Ruslan – held hands and so, like a wall, got to the very stage!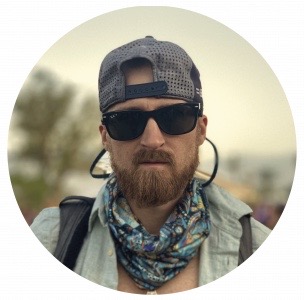 Ruslan: After we return from our business trip, we start video editing in the office. Only a few days later the time comes for the shot made with GoPro. And then it strikes me that I forgot the camera in the taxi on the way to the airport: I put it inside on the panel to shot the road in Time laps mode. Good thing my friend lives in the States! In addition to GoPro, I filmed with my regular camera, and the driver's face got captured, so everything ended well – the camera was found and sent back. There was also a funny situation when I went into the crowd to take a picture of young people and suddenly clearly felt the painfully familiar smell of burning Uzerlik (Peganum harmala). I already wanted to ask how the tradition of burning Uzerlik reached these places when it finally hit me that everyone around me smokes marijuana!
Cappadocia Ulviyya Mahmudova and Gulnara Ismailova
| | |
| --- | --- |
| | |
Life is not that easy! The trip to Cappadocia was the most unexpected in my life. I first participated in the lottery on the Instagram page of Nargis magazine – and just won the trip, and now I am in the role of the blog host! To be honest, I was worried about the fact that I never spoke on camera and did not act as a host at all. But the strangest thing is that just a couple of days before, my friends and I were talking about Cappadocia, even planning a trip there for autumn! And here I am heading to beautiful Cappadocia, and even accompanied by the editor-in-chief of Nargis magazine Ulviyya Mahmudova! At Istanbul Airport, we met videographer Ruslan, but the most exciting moment was our acquaintance with Ulviyya khanum. Beautiful, smiling, sweet, a person of such unreal energy! I remember stopping worrying only after I met her. We immediately went to the shooting of the "city trapped in lava". Historical places, cave settlements, underground shelters, souvenir shops, camel riding and, of course, hot air balloon ride – in reality, it was even cooler than it looked in a photo or video on the Internet! It was the most unforgettable trip of my life, and it later brought me to Nargis magazine. Yes! Now I'm part of this friendly team. And I know for sure: nothing happens in life for nothing!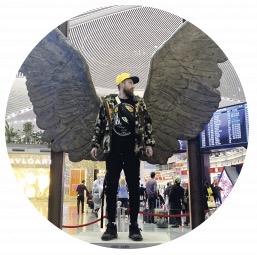 Ruslan: We sat on the gate, but it was in no hurry to open, then we decided to ask what was the matter. It turned out that the landing site was moved and it was already nearing completion. We run from all legs to the new gate, but it turns out that I do not have a passport. I recall that I left it in the Duty-Free zone, and it was a new Turkish airport – who already flew, knows how huge it is! I ran there in three minutes and came back when the gate was already closing...
Spain Leyla Bagirli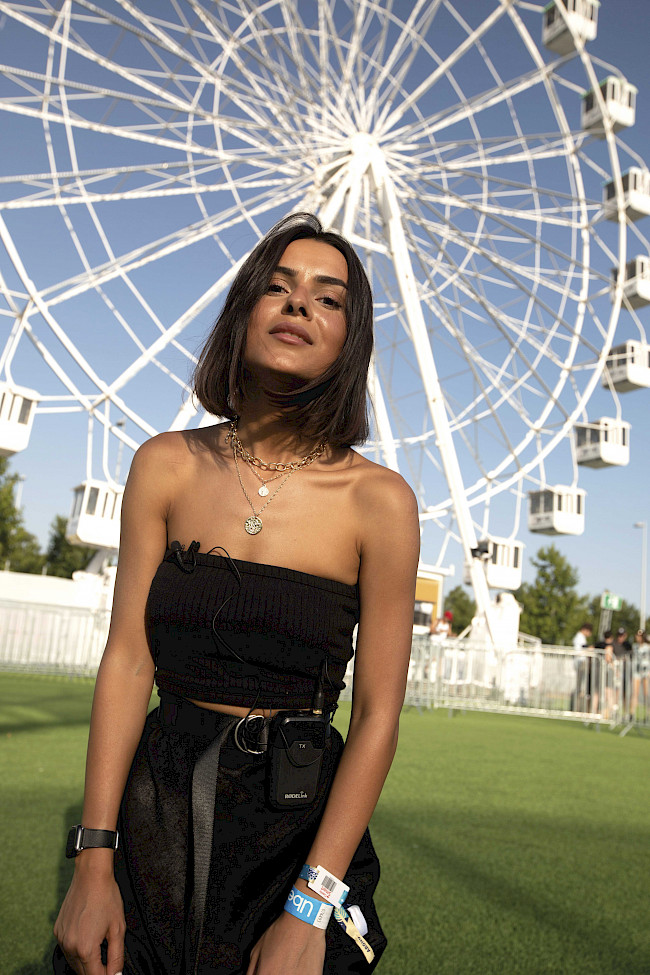 It was funny when I could not correctly pronounce the name of the city of Pamplona. We have done an incredible number of shots! And once during the shooting, when I stood in the crowd and told on the camera how the holiday was going, some Spanish guy suddenly approached me and kissed me on the cheek!
It was not possible to buy flight tickets to Madrid in Pamplona, as well as train tickets, so there was one option left – transfer. We barely found an online option with suitable price – they promised to be at the hotel at one o'clock, but arrived at four – it turned out that the transfer was sent for us from the very Madrid!
In Madrid, at the festival, Ruslan came up with a very dynamic scene, many saw it in our video footage: I run in the crowd and on the move attract different people to shooting, mostly girls, and Ruslan runs after and films. One day I a radio transmitter fell off my microphone, and then we struggled trying to fasten the wire so that there was contact in the microphone.
For some reason, I was sure that in our time, among huge talk about animal protection, killing bulls on bullfighting has long been prohibited. But when I saw the first blood, I had a real hysteria. I cried and was angry at others – how they can rejoice that the matador defeats the wounded bull!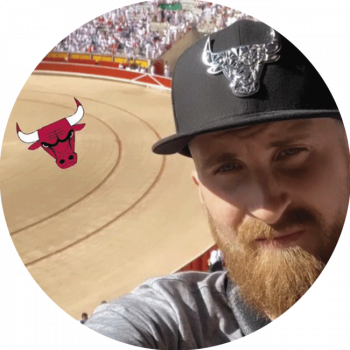 Ruslan: We arrive from the airport to the hotel, I want to pay for my room and find out that I left my bag with phone and wallet on the plane. We return to the airport on the same taxi. We try to explain something, there are few people there who speaks English... Long story short, I see the girl carrying not only the wallet – it turns out that I also forgot my pillow there.


Sziget Saida Gorbunova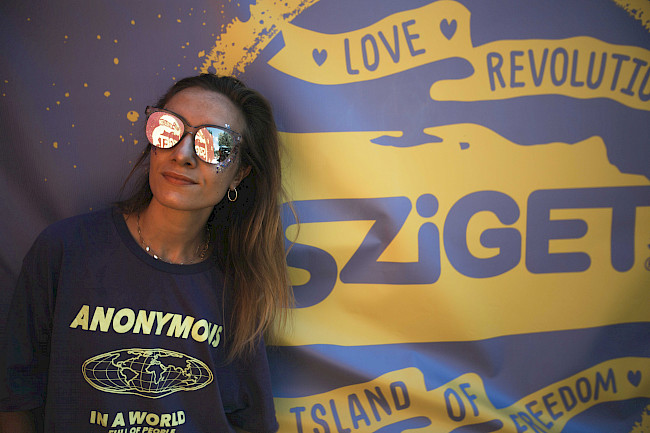 What do I remember most from this annual festival of music, culture and art? Art street actors. I remember that I was offered to get a photo, and I thought that this device was a toy. But then, literally in a minute, they hand a newspaper to me with my photo and an article about me. It was really cool! As well as unexpected flashmobs on the streets, locking up the eyes of passers-by. XS Land Zone was very memorable, where anyone for 10–15 minutes could feel what it was like to be a person with disabilities: walk with his eyes closed and with a cane, play volleyball on his knees, ride in a wheelchair... It was very impressive and gave a lot of food for thought.
When we decided to leave the island, we had to stand in line for an hour and a half. I remember my back aching horribly... And it was also very funny to observe some funny metamorphoses. For example, young people during the day were a model of courtesy and good behavior – not a single beer can left anywhere, but thrown into the trash can only. But with the twilight this changed to 180 degrees: young people at the disco considered it simply their duty to throw garbage right under their feet, not far from the dance floor. Yes, sometimes during journey we face disappointments too!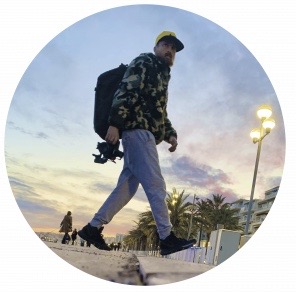 Ruslan: Due to the fact that it was an island, we experienced a cultural and nervous shock at the same time. Everything was perfectly filmed, enjoyed, but when, after getting tired, we wanted to catch a taxi, we had to wait in line for an hour and a half! It's bad that there is no other way to get out of the island!
Montenegro Guzel Kamaletdinova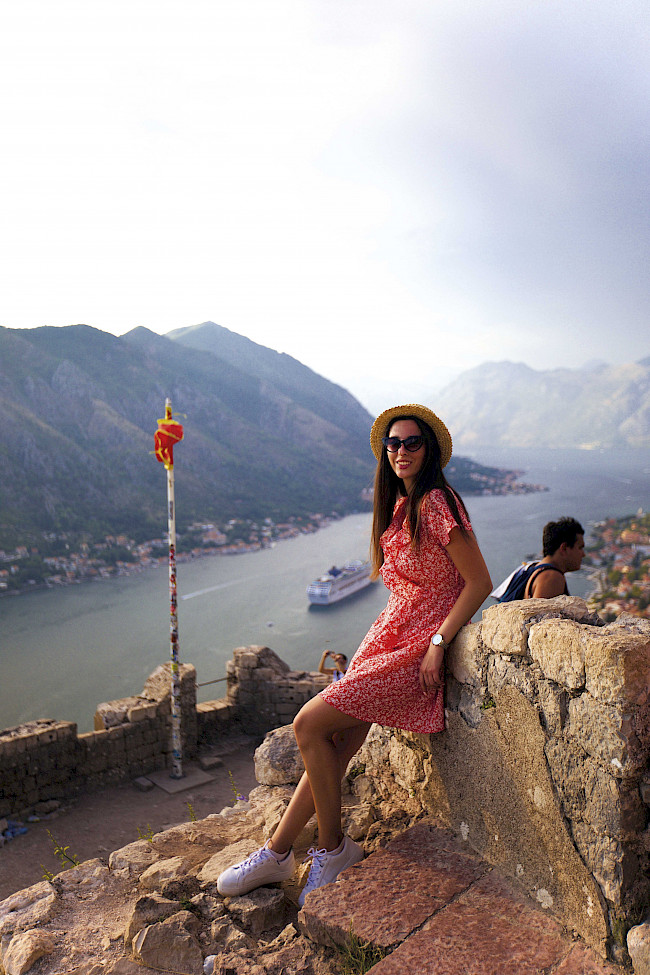 The first shooting day was very saturated. As soon as the last DJ on the festival played his set, we immediately headed to the exit and took the first taxi that we found. The driver immediately assured us that he had the lowest prices, unlike his colleagues, who brazenly rip off the tourists. Joyful and pleasantly weary of the day's impressions, we set off. We haven't even passed a kilometer, but the meter already showed 50 euros.
This is when we got nervous: we had long way ahead of us! After listening to our protests, the friendly from the first sight driver offered a deal: he will call the chief, say that we are his friends, turn off the meter, and we will agree on a price without a meter. After making a call, he turned off the meter and happily announced that now we will have to pay only 150 euros! Now I see how Ruslan begins to raise his tone and is trying to argue with the taxi driver... He began to swear to us that this is a funny price, others drive for 300! Ruslan insisted that I pay only 50 (he left his wallet at the hotel in the morning). I was tired and also nervous, so I remember the rest of the way to the hotel vaguely...We drove through dark, unfamiliar area, and the taxi driver seemed a very suspicious type leading a foul play. Dark thoughts crept into my head, which could result in a fascinating scenario for a wonderful thriller... "I am still so young, I thought, listening to the argument, and there is so much more beautiful ahead of me!"... No, in the end I decided, that it's not worth the risk and paid the requested amount. And in the morning at the reception I found out that the price for our route does not go beyond 25–30 euros!
There were still many adventures on that trip, fascinating and fun, but this story is my favorite, it always causes a storm of emotions among listeners!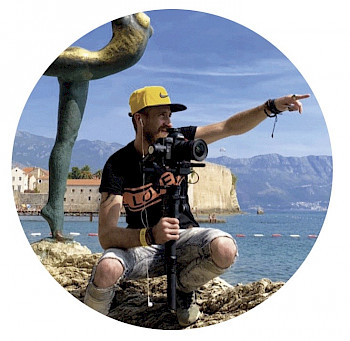 Ruslan: I suffered there because it was so beautiful, the sea was amazing... I wanted to dive into this underwater kingdom! But we needed to work, and there was no time left for this. I didn't even get wet then – I just looked at this transparent blue water and suffered...
Oktoberfest Lana Sokolova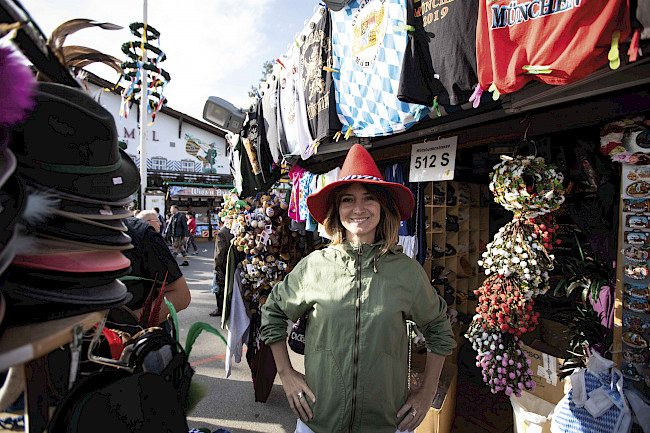 My story should probably start with the words: "I accidentally ended up in Munich once". I clearly remember that I was sitting and thinking where to fly for a couple of days, I swiped airline offers, and then "popped up" Rome, something else and Munich. That's where I'd go, I said to myself! A day passes, and I get an offer to go to this city – to cover the festival! Of course, I would be more inspired by a trip to an art or music festival. But I got beer. I did not hesitate to agree - and here's the plane, the hotel and a large beer mug!
I have already told in detail about the entertainment events of the festival. But most of all I remember Munich itself. I have been to Germany before – Frankfurt and Dusseldorf, but Bavarian Munich is a whole other story! After the days reserved for filming, I stayed for another day to wander through its streets, feel the atmosphere, people. The city breathes with peace, dimension, calmness, every corner is decorated with beautiful architecture... The abundance of parks in urban space gives the city a certain special character – in my eyes it turned out to be exceptionally attractive!
Wherever I go, even passing through, due to my job, I try to visit museums of modern art and design. In Munich, such museums are in a whole art quarter! The expositions here include examples of art and design of various years. And I am also interested in the very architecture of these museums. For example, the Brandhorst Museum: the building seems to be dressed in 36 thousand ceramic rods of 23 different colors, located vertically over the plating of sheet metal with horizontal stripes... So, of course, it was worth it to visit Oktoberfest because it takes place in such a fabulously beautiful city as Munich. I flew away so inspired! Thanks to the magazine!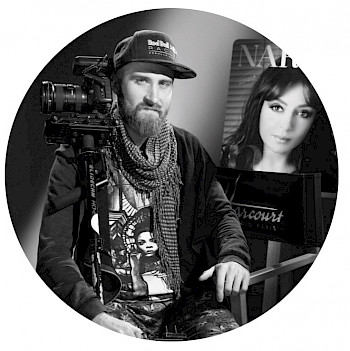 Ruslan: At the festival in the ticket pass one tent included for each person: two-liter mugs of beer and half a chicken. In the first day alone, the presenter and I were to visit three tents. Now count how many liters of free beer we were offered to drink for the whole festival! It is good that in comparison with the locals we were not so huge fans of this drink!
Milan Nigar Gahramanova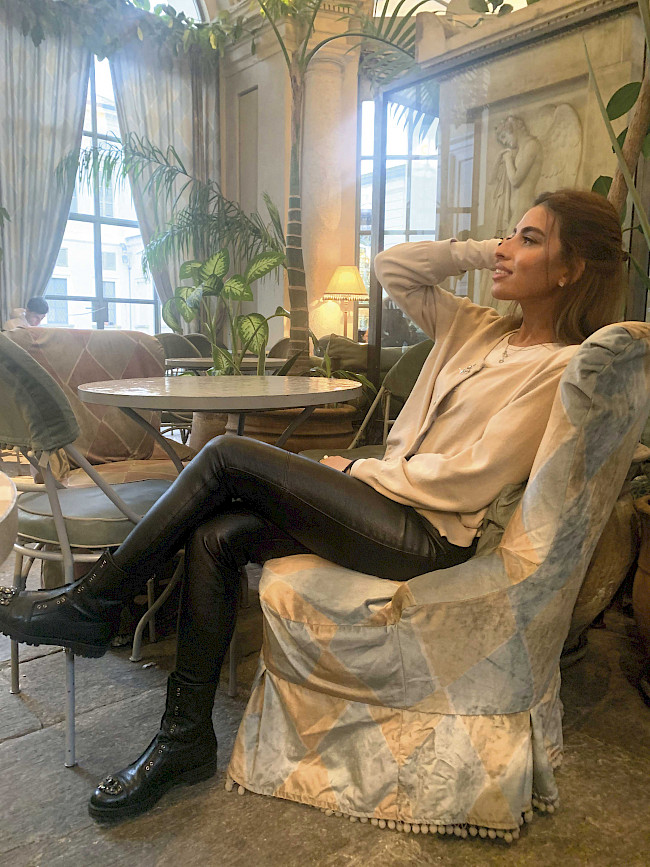 My colleagues know that I am a supporter of the right lifestyle and follow the principle of a healthy diet: I avoid gluten, sugar and soda. Before traveling to Milan, I was warned that it would be necessary to "eat tasty" on camera, but the audience would not be attracted by the green leaves of my salad. As a result, I ordered food in large quantities and depicted on camera how I eat spaghetti, cannoli and even ice cream. By the way, in the video where I try ice cream, the macaroon did not fly off it on purpose. We probably took 125 takes before I managed to say everything I needed in the microphone, without stuttering! By this time, ice cream, of course, began to melt, and as a result, the macaroon, which decorated ice cream, fell off and began to live its own life! But Ruslan, who had been grumbling at me for the whole trip, negatively accepted the macaroon's flight into the unknown, so I had to stand in line for another forty minutes to buy a new portion... It was even more difficult to act how I enjoy pizza by biting off a tiny piece: the pizza was too hot, and the cheese flowed directly to my plate lika a waterfall. To this, Ruslan philosophically noted that not only do I not like to eat tasty, but food in every way ignores me.
In Milan, we visited the Giorgio Armani show, where the maestro presented his spring and summer collection. Nargis magazine was also invited to a private dinner in the same building as the show. It was categorically forbidden to shoot a banquet, but I still managed to take a couple of photos on the phone. Luxurious dinner for 350 guests, live Italian music and, most importantly, interaction with famous personalities from the fashion world – all this was captured in my memory forever!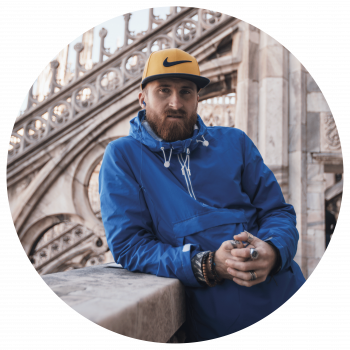 Ruslan: We found a street in Milan, where was a very beautiful light. The sun just began to set, and I decided to make a shot of this setting sun – it turned out to be a beautiful purple hue! The shot that got in the magazine was probably one of the best – we were filming until the sun went down.

Nurai Island Jamila Salam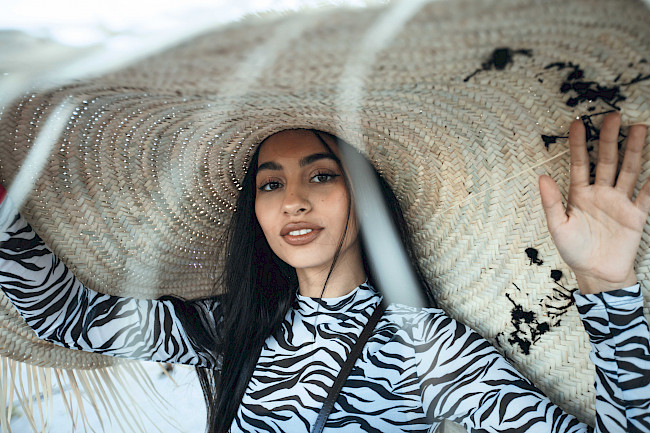 Shooting for Travel Blog wasn't as easy as I thought. Firstly, it was already difficult to get to the island: first by car, then by boat. Secondly, the festival party continues almost around the clock: the audience gathered by 11 in the morning, all day there were different events, and the rich program ended in the morning, around 4 a.m, and so on every day! We had to live and work literally in the field in order not to miss a single significant event – performances of an eminent DJ or dance show. On the first day, Ruslan left me to guard the equipment and disappeared for two hours. I couldn't reach him because his phone was dead. It was terribly cold, I took Ruslan's belongings to the nearest hotel with help. Then he turned up – after a few hours. He was looking for me.
And once he was shooting dancers in the pool, he wanted to shoot from close range (by the way, the image turned up great!), and the stabilizer accidentally "dived" into the pool. Ruslan was looking for a hairdryer around the hotel to dry it, I don't know if he found it or not, but the next day the camera worked as usual. We really wanted to carry this cool GoPro camera with us to one event. Ruslan began to offer different options, how to smuggle it unnoticed, but I talked him out of it – the UAE has very strict laws, huge fines for the slightest violation, video surveillance everywhere – why take risks?
Once we shot a minute scene by the pool – it took 20 minutes! It's just that I had "the giggles": starting to say my words, I constantly exploded with laughter. As a result, the frames had to be cut. Believe me, it was just a nervous laugh – at 3 a.m., after such a busy day, it was very hard to focus!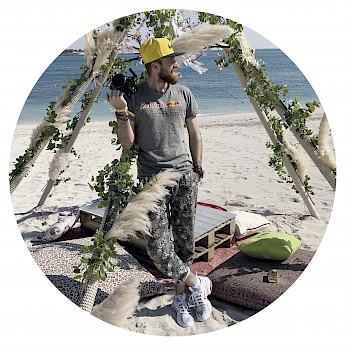 Ruslan: After the filming, at 4 a.m. we approach the taxi drivers and ask how much they will charge for ride to Abu Dhabi Mall – our hotel was next to the mall. One says $250 and the other $40. We can't call Uber, everyone's battery is dead. We come to the hotel and tell how the taxi driver raised the price. And the manager says: "He probably heard – Dubai Mall, and it is in another city".
Christmas Fairs Fidan and Ramin Aliyevs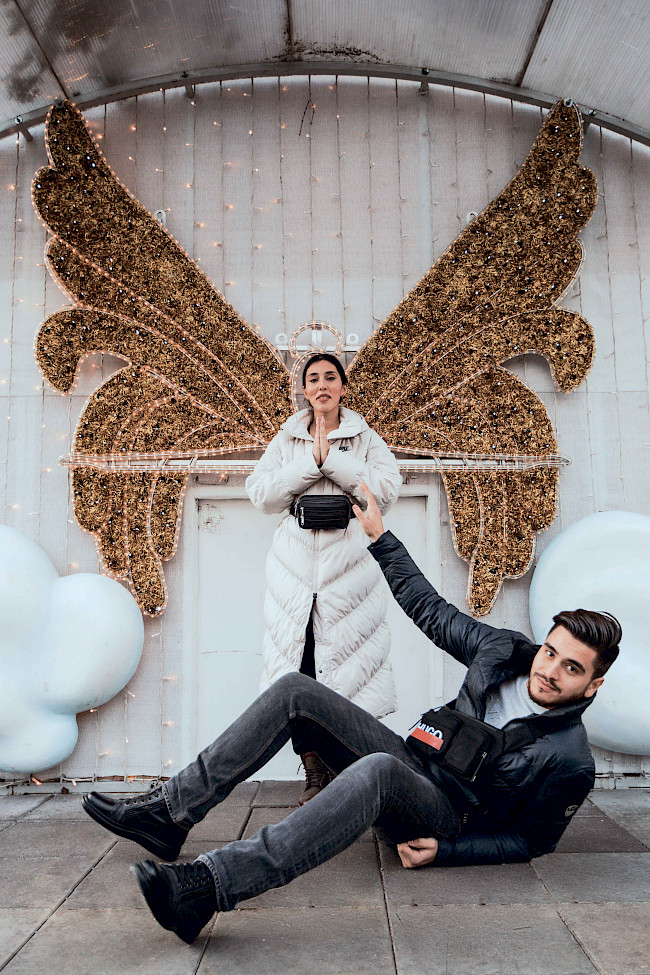 We were instructed to cover Christmas fairs, and we arrived in Vienna on Christmas eve, with thoughts about a beautiful holiday. The hotel was in the center of Vienna, we changed two vehicles to get to the fair. Before entering, we took an introductory video: now we will show you all everything here... But, as it turned out, on the eve of the holiday, everything in the city closes down, including fairs! Even pharmacies are closed, let alone shops and restaurants. This is a purely family, home holiday. And we were tuned to try local festive dishes, have fun in the crowd! The only open cafe we found turned out to be Turkish, with already familiar cuisine!
Then we went to Prague. There is the narrowest street In Prague – Vinárna Čertovka, only 70 centimeters wide, along which you can walk only alone. It even has a traffic light set for such case! There is a moment in the video when I walk down this street and say that I am the only person in the world who walked down this street the two of us! And this is true: at that time, I was in a delicate position...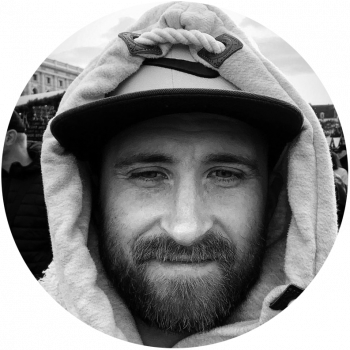 Ruslan: On my first trip to Vienna, I tried pumpkin seed oil, which I really liked. This time, as we arrived, we went to the store near our hotel – there were both oil and various goodies. I did not take anything, just figured out that I would buy myself tomorrow for Christmas... And the next day, we went to the fair in the morning, having a little snack, hoping to see a real folk Christmas celebration! But, to our disappointment, all establishments and even fairs were closed – all the locals were celebrating at house. All two days! And two days later, everything opened – just on the day of our departure. That's how merry Christmas he had in Europe!

Maldives Leyla Sultanzade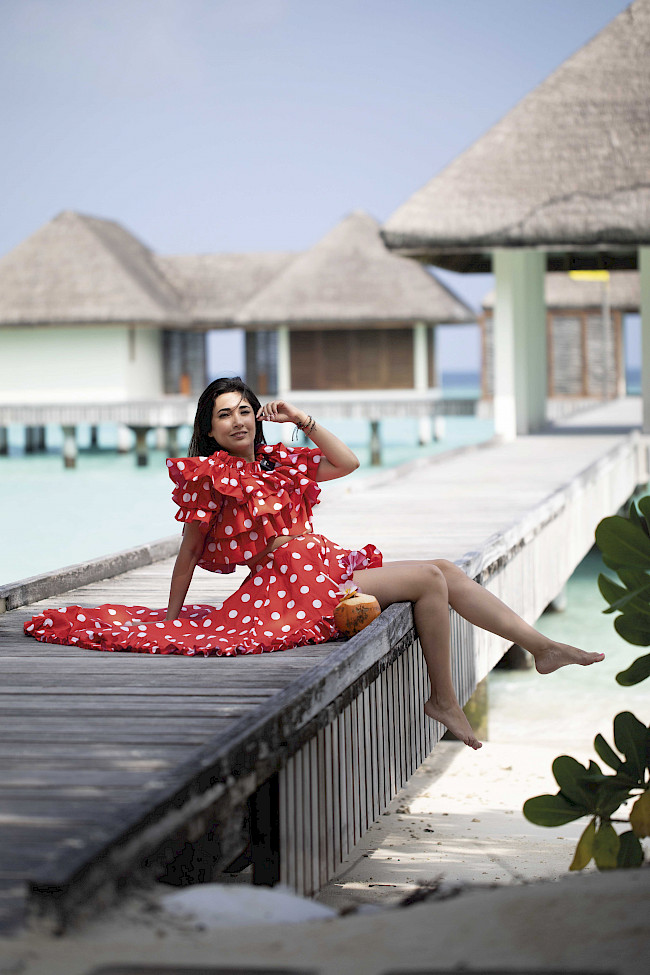 I remember with what mood after a long flight Ruslan and I went down the ramp in anticipation of finally diving into the tropical Maldivian paradise. But no such luck, as our art director Elshan likes to say: at the border we are detained due to ambiguities with visa for two hours – this is how our Maldivian adventures began. I must say that sitting for two hours on hard steel benches after an eight-hour flight is some challenge. But this turned out to be only a prelude to our misadventures: when we were eventually set free, it turned out that the luggage had successfully disappeared. We were given a pajama and vanity kit and, smiling nicely, wished a wonderful time. Ruslan and I left the airport with the same feeling as Ostap Bender and Kisa Vorobyaninov – the auction hall.
The suitcases contained everything acquired by unbearable journalistic work: filming equipment, clothes for tropical rest, antiperspirant at last! "Everything's gone, chief!" – screamed my inner Lyolik. For the next two days, I had to walk in one undergarments and translucent sarong, to the delight of the hotel staff who were already nodding from afar.
Thank God, our luggage was found. We filmed everything properly and flew to another island, where the staff did not know about my shame. The whole island escorted us, wishing a good trip... But, as you can see, closer to the equator, wishes come true more slowly. Because on the way back Ruslan's money was stolen on the plane, and while the slow Arabs found out what was going on, our airliner waved us farewell with his wing. This time, we waited for 12 hours at the airport to get back home. And yet, despite all our misadventures, it was an unforgettable trip! The video blog had almost 30 thousand views and lots of comments. So that's all for you, honored audience!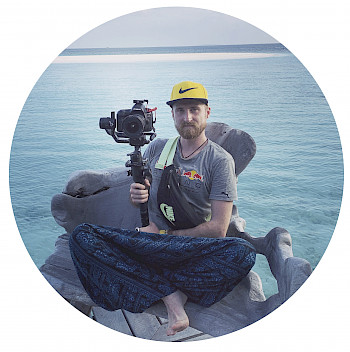 Ruslan: Huge transit airport – you don't know where to go, many different gates... And suddenly I understand that I left my bag on the plane AGAIN, and with it the phone, wallet and passport! In short, we waited a whole day for the next plane. My bag was found during this time, however, without my airpods, and even the money in the wallet was missing... I have been doing diving for a long time, so I made most underwater shots myself. Remember the huge turtle? Usually they are not very friendly under water, and this one was not scared, let closer to itself!
Cote d'Azur Rubaba Rasulova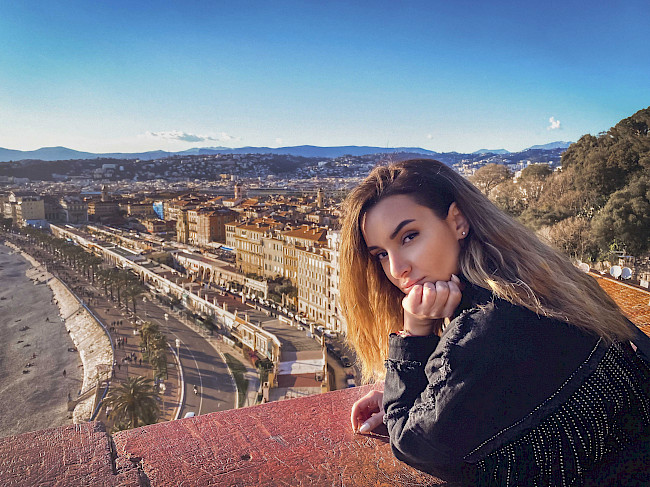 Even before I started working in Nargis magazine, I followed the Travel Blog project with interest and, deep down, always wanted to be the presenter. It seemed to me: I will easily film a great video! And so I was offered to try myself in the role of a blogger and make a cover, and not somewhere, but on my favorite Cote d'Azur! But it turned out that talking on camera is not so easy. Arriving to the Cote d'Azur, we began to shoot the sights of Nice. The first in the list – English Embankment – turned out to be full of people, which, however, is typical of this place. People waved their hands, looked into the frame, honked... And when I had to cross the street, I did not know what to do: talk to the camera or watch the road so that I would not be hit by a car. But all this was done with great inspiration and positivity! Monaco is a magical city! So here we go up to the Royal Palace, take out cameras and a microphone...
But here comes the policeman and politely wonders what we are going to do. Having heard the answer, he said that it was possible to shoot in Monaco only with the permission of the government. A pause for a minute... So what?! Non-compliance with the rule threatens arrest. But we were unstoppable! We filmed hiding behind trees, pretending to be tourists – for some reason they were allowed to shoot - and simply watching the movements of police officers. Adrenaline was boosting! But we did it! And, in my opinion, we did well! It was a unique experience. Thank you, colleagues, for believing in me and offering to participate in this interesting project!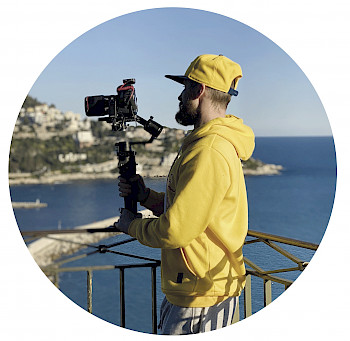 Ruslan: In Nice, I thought that I had lost the battery from the light, and was upset. I lose things all the time! I came home and found it. On this trip, I did not lose anything thanks to Matula (this is how we sweetly call Rubaba in the team) – she reminded me every time: you didn't forget, did you take?!

Love, NARGIS