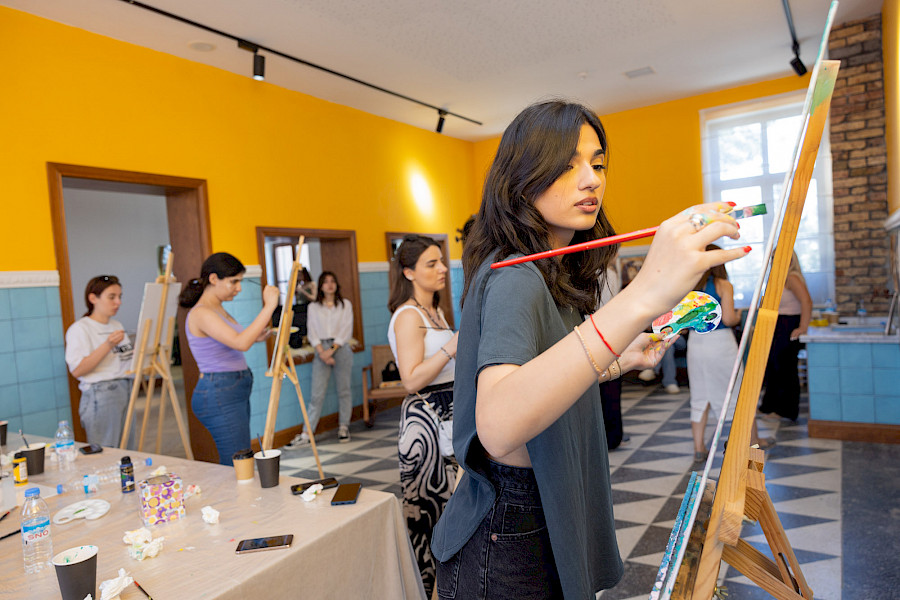 The luxurious Space_____________13 art space witnessed a one-of-a-kind event on June 23-24 – the Force of Love festival. Inspired by Ulviyya Mahmud, the festival was organised by NARGIS Magazine, known for its successful cultural and social events. This time, the focus was on the timeless theme of love, showcasing the immense potential of Azerbaijani artists in various fields. The festival served as a beautiful tribute to the power of love, highlighting its significant role in art and daily life.

The venue for the festival was not merely a coincidence. Space_____________13, a historic Mudéjar building, was chosen specifically for its rich history and exceptional beauty. Every corner of the building is a true work of art, demonstrating the love and care taken to preserve this cultural gem. Originally belonging to an Iranian oilman, the building was later nationalised during the Soviet era. After Azerbaijan gained independence, Ulviyya Mahmud took on the responsibility of restoring the building to its former glory while retaining its original architectural elements and appearance. The filigree stucco in floral and geometric patterns reflects the synthesis of art from East and West, making Space_____________13 a unique and captivating venue for the festival.
The colourful brand wall at the our fest was specially made by Amapola Sensum.
The festival was a blend of creativity and entertainment that catered to every age group. The event showcased local brands, not only for clothing and accessories but also for diverse educational and entertainment programs. The festival kicked off with a Boho-style NARIGS master class led by Gunel Mardanova. The talented Elvira Kerim showcased her skills in coffee art, while also captivating visitors with her stunning face and body art. Riad Abdullayev led a ceramic workshop, while Fidan Abbasova conducted stained glass painting on dishes. The Art Muse studio hosted a 3D drawing workshop, and visitors enjoyed creating their own cartoon drawings with Emilia Akhundova's guidance. The festival was a delightful experience that left visitors with a deeper appreciation for local art and creativity.
The festival was an electrifying two-day affair filled with incredible music from talented DJs such as MARU, JACKINA, MAASTAN B2B, LIMA, and RRSHD. But the entertainment didn't stop there. A special corner was dedicated to a stunning photo exhibition featuring the works of Leyla Alakbarova, Sharaf Naghiyeva, Ramina Saadatkhan, and other incredible artists whose works were also available for purchase.
We extend our heartfelt thanks to our partners GUNASH, The Modaology, Fryday, Jumla, Libraff, Rene Studio, Gai & Co, S.E.N.S.U.M. by AMAPOLA, Café De Costa Rica, Zarnishan By ZaraTahmazova, Eclatante, Johnnie Walker, Bizon, Vapebox, The Kocharli, KOBI, SNO, Émray Azerbaijan for joining us in spreading the message of love and happiness to our guests. Their support helped make the festival an unforgettable experience.