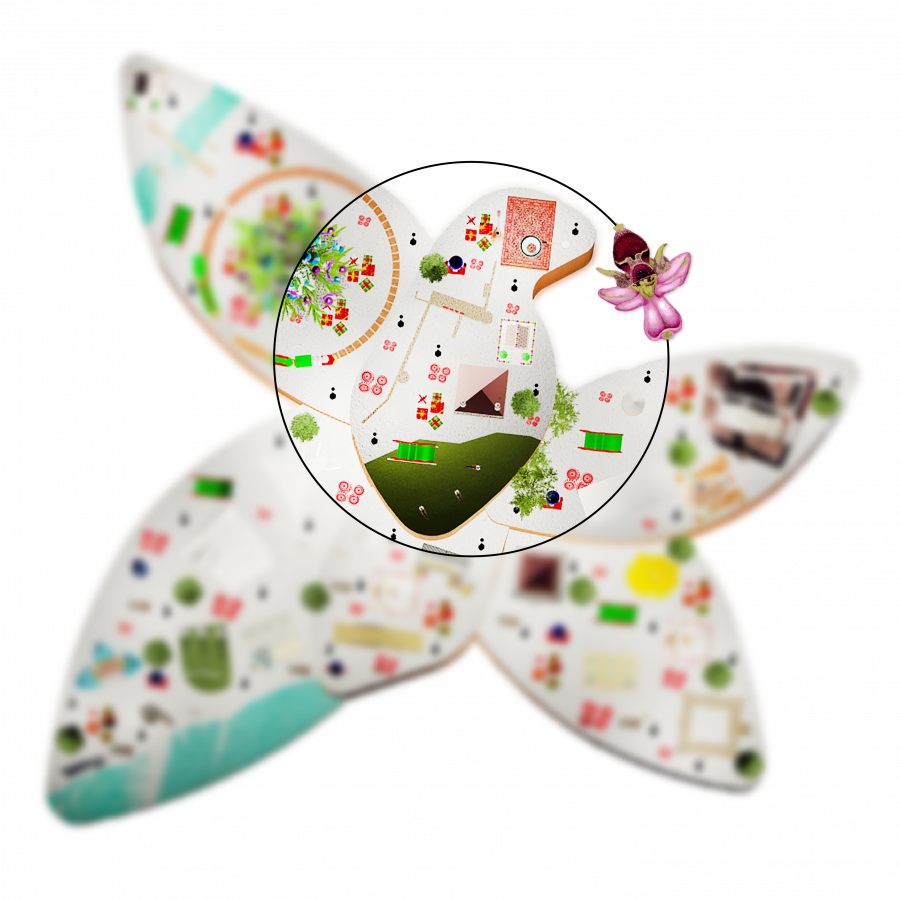 Jidir Duzu, Shusha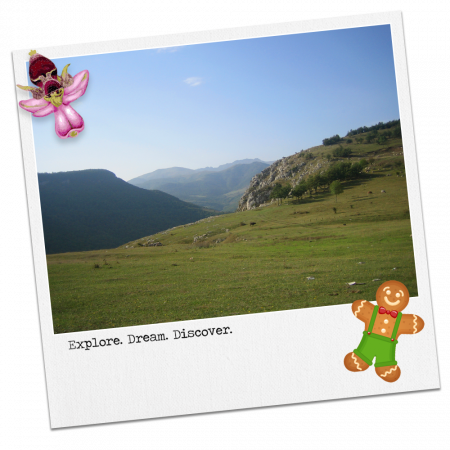 One of the first sights of choice for Azerbaijani people and Shusha guests, and one of the main symbols of Karabakh. For hundreds of years, it had hosted horse races that featured Karabakh's notorious steeds. Before Armenians invaded the region, the Khari Bulbul musical festivals were held here on an annual basis during the last month of spring. After a forced long-term interruption, the festival came back to Shusha in May 2021, and Jidir Duzu once more heard Azerbaijani music played.
Karabakh Carpets
The Karabakh carpet-weaving school was regarded as one of the strongest establishments across the region. Ever since the 18th century, it was concentrated in Shusha. It was this town that saw the birth of Latif Karimov, an Azerbaijani artist, carpet designer, and the driving force behind the establishment of the world's first state carpet museum. The Karabakh carpet-weaving school boasts classical carpet compositions such as Aran, Bakhachadaguller, Balig, Buynuz, Barda, Bakhmanli, Garabagh, Goja, Gasimushagi, Lemberani, Mughan, Malibayli, Khanlig, Khantirma, Chelebi, Shabalidbuta.
Tiq-tiq-khanym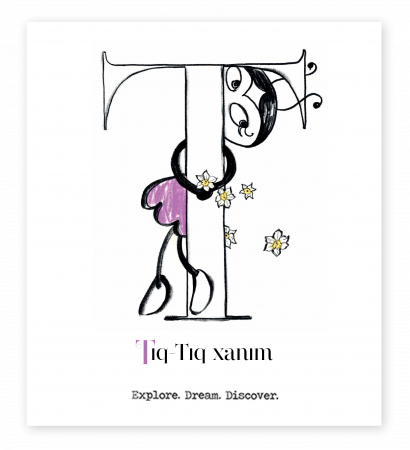 "Tiq-tiq, tiq-tiq", the nutshells on her feet click. The beetle lady washed herself
with dew, painted her face with pollen and set off in search of a "friend".
However, neither the shepherd nor the fox were to her taste. Only the little mouse
indulged her, but in the end the self-satisfied Tiq-tiq-khanym lost him too. This is
the subject of one of the first children's stories to appear in Azerbaijan; its author,
Abdulla Shaig, was the first children's writer. It was written in verse and,
in Soviet times, was made into a cartoon with wonderful songs, whose lyrics
have become well-known quotations.
Jyrtdan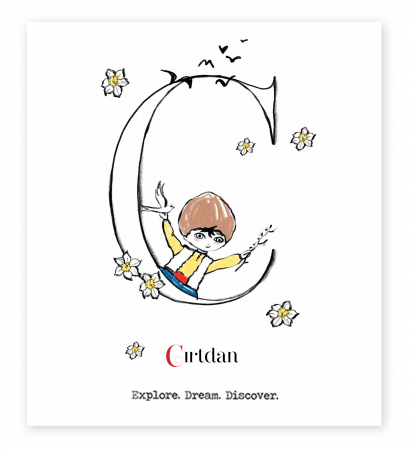 "There was once a woman. And she had an only son, so little and skinny that
they called him Jyrtdan". This fairy-tale character was, on the one hand, lazy
and cunning: he made the other boys gather brushwood for him and carry his
knapsack. On the other hand, when the children found themselves one night in
the house of the terrible giant, Div, it was Jyrtdan's native wit that saved them all.
In the end, plucky little Jyrtdan became a real hero. Today, he is one of the key
characters of Azerbaijani folklore.
Zumrud bird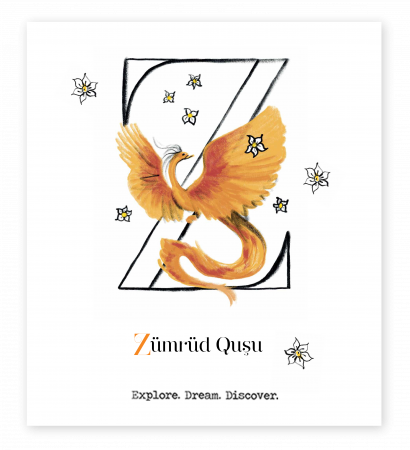 The padishah's young son, Melikmammad, as is the case in fairy tales, was
unlucky with his brothers. They disliked him, so they tried to get rid of him. Melikmammad,
however, had a magical ally – the wonderful Zumrud bird. Grateful
to Melikmammad for saving her nestlings from a dragon, Zumrud led him from
the realm of darkness back to the world of the living and gave him some of her
feathers: if you burn one, the bird would come to your aid, whatever
your trouble is. Thus, his brothers' treachery turned out to be of service
to Melikmammad. In the end he received both the realm and a beautiful wife.
Divs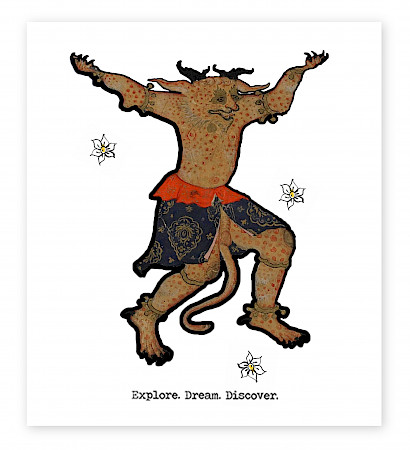 Divs – supernatural beings of gigantic size - are quite popular characters in the folklore of Caucasus, Asia Minor, and Central Asia; they are encountered even today in nearly each children's book across the region. In Azerbaijani fairy-tales, a div is probably one of the most frequent encounters for a protagonist. Just like an ogre from fantasy tales, a div is an ugly giant, woolly and not very bright. An evil incarnate, a div is a threat to all living; a protagonist, however, always finds a way to trick them and sometimes even defeats them in a battle. In fairy tales, divs are used to guard some treasures, kidnapping girls, or assaulting wayfarers in the mountains. But not all myths are unequivocal regarding divs; now and then, a div can do something good, as we can see in the tale "Shahzada Mutalib".
Karabakh Horses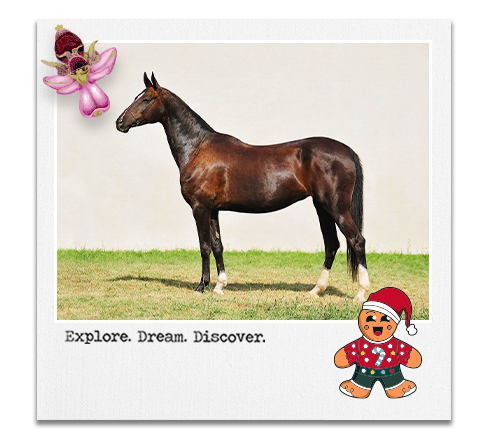 Since ancient times, horses have been held in high esteem in Azerbaijan and the broader Caucasus, for they, together with weapons, were the measure people used to judge a man. Azerbaijan has long been famed for several horse breeds, but Karabakh horses, one of the world's most ancient riding breeds, truly stands out from the rest. These horses are distinguished by their stamina, speed, and elegance and are regarded as one of the symbols of Azerbaijan. Dressed in the national outfit, Karabakh steeds Jasur (Freedom-Loving) and Inja (Tender) were official mascots of the 4th Islamic Solidarity Games held in Baku from 12 to 22 May 2017.
Сhovqan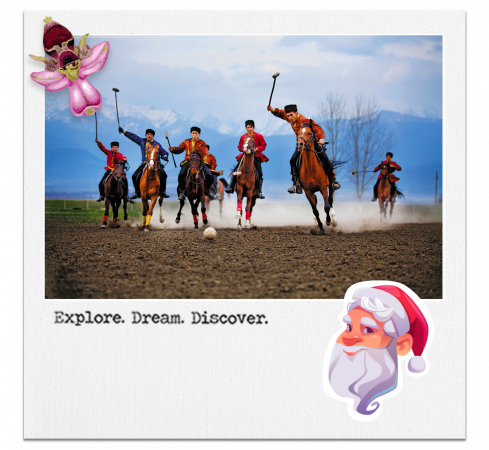 A millennium and a half ago, eastern men played chovqan rather than polo. The players aimed to hit the opposing goal. With clubs in their hands, riding rangy Karabakh race horses, they became the subjects of many miniatures, of poems and epic stories. The chovqan players of ancient times demonstrated such prowess on horseback that the Europeans acquired this tradition from them, in the form of polo. In 2013, UNESCO inscribed chovqan on its List of Intangible Cultural Heritage in Need of Urgent Safeguarding.
Yukhari Govhar Agha Mosque, Shusha, 1883-84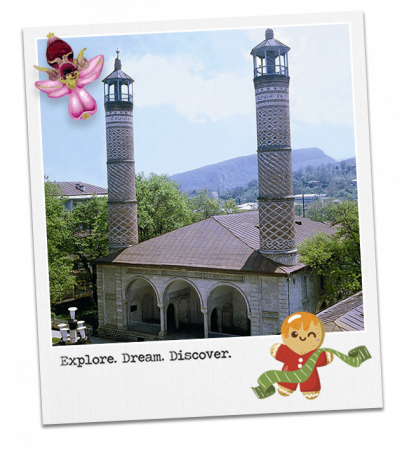 It took the builders four distinctive stages to build this mosque. It was first erected from reed, ordered in 1750 by the founder of the Karabakh Khanate, Panah Ali Khan. Then the construction was suspended; commissioned by Ibrahim Khalil Khan's daughter Govhar Agha, andcompleted only in 1883-84 by architect Karbalayi Safikhan Karabakhi. During the occupation of Shusha, the mosque was shelled by artillery and its minarets were destroyed. From May 1992, the mosque was on the brink of collapse for 28 years. With Shusha's liberation in 2020, the mosque saw Azerbaijani soldiers clean it up, lay carpets, and pray to God for the first time in several decades.
Khan Gizi Spring, Shusha, mid-19th century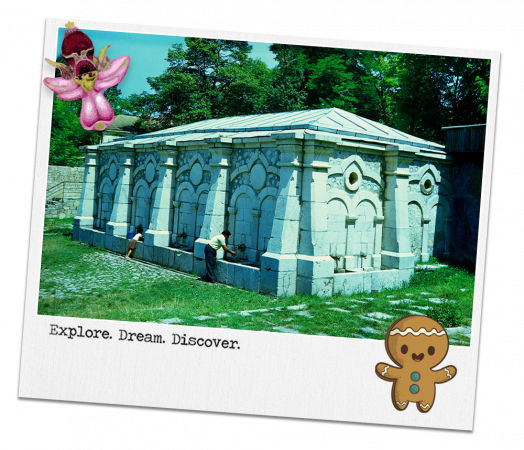 There used to be just two freshwater springs in Shusha even in the 19th century, so its 25-30 thousand population always suffered from short supply. Allotting a considerable amount of money, Khurshidbanu Natavan – Khan's daughter, famous poetess and a community leader – had a water pipeline installed in the city in 1871. Springwater was supplied through 6 taps at a flow rate sufficient to fill six barrels in under two minutes. Thereby, Natavan's noble action gave the waters of life to Shusha.
Shusha Castle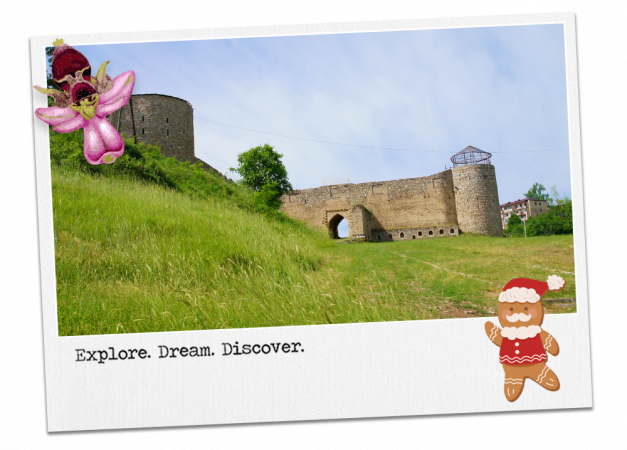 The foundation of Shusha is linked to Panah Ali Khan; realizing that the existing fortresses of Bayat and Shahbulag were not very reliable, during a session of his divan he declared his decision to "build an everlasting and impenetrable fortress in impassable mountains, to resist even the strongest of foes". Once the bastille town of Shusha was completed, Panah-Ali Khan made it the new capital of the Karabakh Khanate. The foundation dates vary between sources, but in any case, it should not be later than the early 1750s.
Molla Panah Vagif's Tomb, Shusha, 1982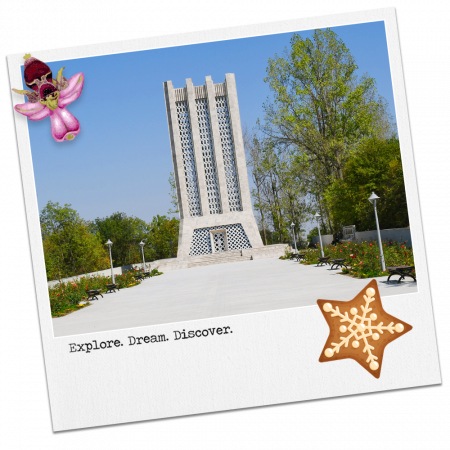 Located in the vicinity of Jidir Duzu, the tomb of Molla Panah Vagif, a brilliant Azerbaijani poet and Vizier of Karabakh Khanate, has long been a shrine. In 1977-82, a mausoleum was built in this place and solemnly inaugurated upon the completion by National Leader Heydar Aliyev and other celebrities. The mausoleum was heavily damaged over the long years of occupation, but on 29 August 2021, it was reopened after a thorough restoration effort.
Musical Town, Shusha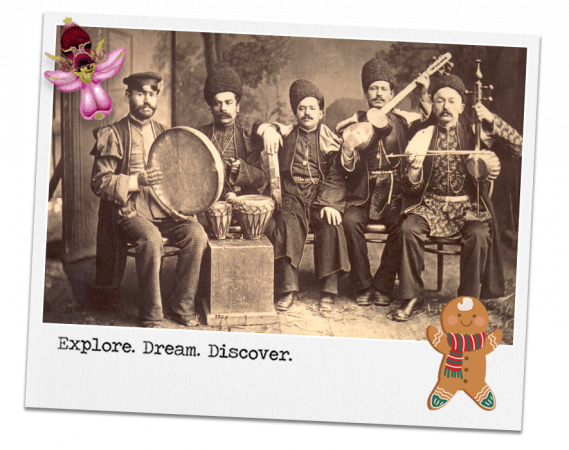 Shusha, a singing town. In the 17-19th centuries, it hosted concerts and contests, saw the founding of numerous literary and musical clubs ('majlis'), which gave the country its famous khanandas and sazandars; they established the canons of modern mugham and created a school of their own – and not just as a tradition in art, but an educational facility as well. For instance, the town was famous for its traditional singing school – the first within present-day Azerbaijan - that was set up in the mid-19th century by Kharrat Gulu, a renowned music scholar.
The first-ever opera in the Orient was also created by a native of Shusha; it was the famous Leyli and Majnun by Uzeyir Hajibayli. We cannot help but mention the great musician Sadikhjan with his incontestable contribution to the development of mugham. He upgraded tar by modernizing its body, changing the number of strings and frets and thereby expanding its capability; late in the 19th century, he set up a musical ensemble with famous singers and musicians of the time.